Lake Worth, FL – 7:00 to 10:00 pm
Hot Sauce Moon @ Rudy's Pub – Saturday Night
It's the "No Small Business" Show
Thanks to Rudy's Pub for promoting local music.
No cover; no minimum.
We hope to see you there!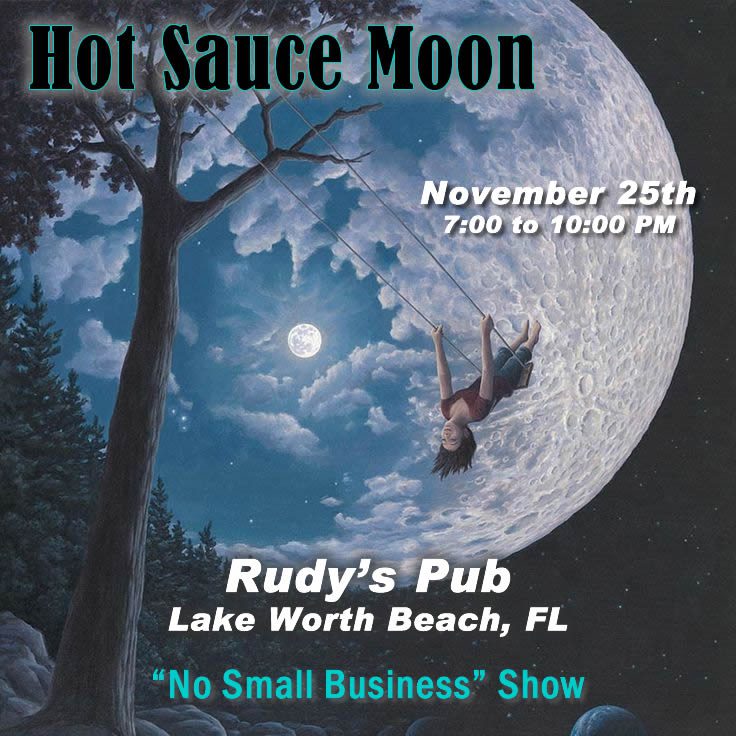 "No grouchy people allowed!"
Sets feature songs by Grateful Dead, Buffalo Springfield, Crosby, Stills, Nash, Young, Bob Dylan, Los Lobos, The Band, Creedence Clearwater Revival, John Anderson, Taj Mahal, Rolling Stones, Dr John, Professor Longhair, Pure Prairie League, Steve Earle, (our own) Charlie Hankin and many, many more.
The regular group of Ne'er-Do-Wells
Jim Shettleroe on guitar, vocals & harp. Charlie Hankin on guitar, vocals, harp and flute. Jacqui Agostinelli on vocals. James Squires on Zendrum & vocals. Tommy Pertis on bass.